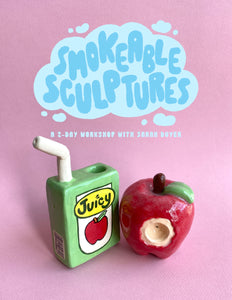 Schedule a private workshop for you and your friends! (4 people max)

This class, taught by Sarah Duyer, will explore the basics of making pipes using coil, pinch, or slab techniques. 
This workshop is split into two sessions:
Making: Learn basic hand building skills to create sculpt your pipe (3 hrs)
Glazing: Decorate your pipe with underglaze (3 hrs)
All materials and tools will be provided for you, along with a copy of my illustrated zine Let's Make a Pipe. I will be responsible for clear glazing and firing pieces, and can ship or schedule pickup after pieces are complete. Pieces will be ready to pick up about a week after glazing.
Since this is a private class we can schedule class times whenever you like (preferably between 12-8pm), but must have at least 1 week between making and glazing sessions for firing.
If you're interested in booking larger private classes or have questions about scheduling, please email me at info @sarahduyer.com
Class will be held at Fog City Ceramics at 1890 Bryant Street studios